"Reciprocity is also part of the human condition". When someone is kind to us, we tend to reciprocate his or her kindness. Norms of reciprocity are important elements to establish a connection with one another because kindness begets kindness, and openness begets openness. If you want to build relationships with your remote coworkers, you have to be friendly and open to them. But when working remotely, how can you do that? Let's try some tips Sunbytes is going to list down below.
Squeeze in some extra time before or after the meeting
Small talk is the golden rule in the office to introduce and ease new talents into the team's community. When it was standard practice working from an office, conversation topics would spread like wildfire if the topic is juicy enough.
To have more insight into your new work colleagues' life, it may begin with a conversation about their son or daughter, or figuring out if they are any bit talented at soccer for the upcoming 5-a-side competition. These small-talk possibilities, in fact, assist you in building relationships with your colleagues and learning more about their lives and personalities.
When switching to online meetings, you should never skip this step. Intentionally join meetings earlier in ~5- 10 minutes to have some chit-chats with your colleagues to learn more about them. If your teammates join the meeting just on time, you can spend the last minutes of the call and open opportunities for your team to keep chatting.
To ensure that you have an effective meeting, you should also set a clear break for small talk and meeting purposes.
Try out the Slack 'Ask Me Anything' challenge
Random fun facts are fantastic for breaking the ice, impressing a date, and making friends with newcomers. Facts are appealing to others and so are games that help us to understand our workmates better. If your development team or your company opens a Slack channel of Ask-Me-Anything, do not be shy to join the conversations and ask your workers questions about themselves. Don't burst into it straight away by asking how their first kiss went down, or be boring and unoriginal by asking them what their favorite color is, find that middle ground. Things in common with your coworkers will enable you to connect the dots.
If your company doesn't have that channel? Why don't you raise your voice and propose innovation in your online workplace?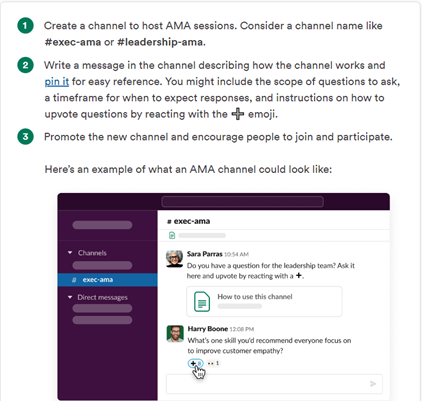 How to create an AMA challenge on Slack
Send a personal message
You can easily congratulate your co-workers on their birthday with a look, a smile, or even some flowers when working in the same office. Small gestures like these are signs to your coworker that you are friendly and want to build a rapport with her/him. Once you switch to working online, don't forget to send personal messages to your colleagues on special occasions, heartfelt congratulations, or even a pizza delivered to your coworker's door to show your appreciation.
Create a How to work with me guideline
Adam Bryant, a columnist for The New York Times, suggested during his session at The New Work Summit that CEOs he interviewed created their "user manuals" for themselves. Following this advice, you can probably encourage yourself and your coworkers to create a how to work with me guideline on Google Docs. This how-to-work-with-me guideline will help you list down what you like, what you don't like, and how you work best. It's a "cheat sheet" of sorts, giving others a way to quickly and efficiently learn about you, which in turn allows you and your colleague to work together more effectively." – Learn more about this idea here.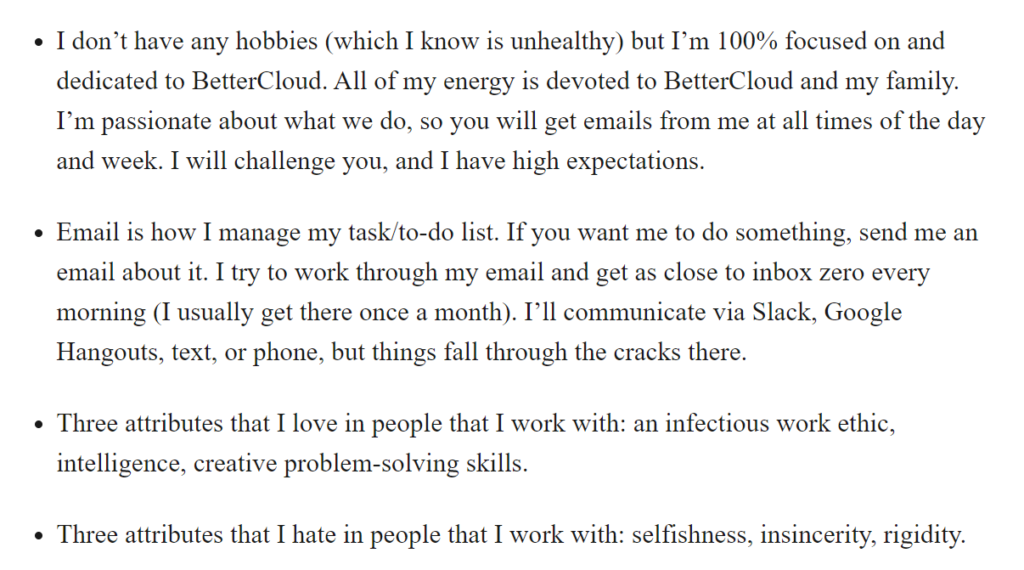 An example of How to work with me guidelines from David Politis, CEO of BetterCloud
Plan a meet in a real-life
"Familiarity breeds acceptance". The more you meet your remote workers in person, the better you can understand them. Meeting colleagues working remotely in real life can be difficult when you work in different time zones. However, with people in the same country, do not forget to plan outings with your colleagues. Maybe it's just a lunch or dinner, a movie night. These little meetings can really help you connect with your colleagues and build stronger relationships in the workplace.
Create or join a monthly challenge
If you are looking for a way to make your team more cohesive, the monthly challenge is really an effective method. A little friendly competition never harmed anyone (unless you have a known sore loser on your team). Succeeding in entertaining tasks is a great way to show that you are a vital team member, no matter where you are:
Compete to cook a new dish and share it on Slack
Reading contest
Contest to do one good deed every day
Writing a message to a new friend in the company every day
Take a photo of something that makes you happy every day
Say hello and have 5 minutes conversation with one different colleague for 10 days
Walking / running challenge. Sunbytes' running challenge has now reached a total distance of 500 km, with team members from all over the world participating, including Brazil, Vietnam, the Philippines, and the Netherlands. This contest has genuinely engaged all of us and inspired our work for Sunbytes. It also demonstrates the strong connection amongst Sunbytes members, whether they are sitting next to one other in the office or remotely sharing our ideas across the globe via Google Meet.
The approaches listed above are some popular ways to build relationships with remote coworkers. Apply what you want, and you could make more friends at work and succeed with them, as Henry Ford once said: "Coming together is the beginning, staying together is progress, and working together is a success."