Software engineer shortage
Tech talent shortage, combined with influential events such as the COVID epidemic, Brexit, or the crisis in Russia-NATO ties during the Ukraine war, is generating a significant hurdle in the business development process. In this article, Sunbytes will give you an overview of the software engineer shortage and provide you with some helpful suggestions on how to assist your business in dealing with such a growing global concern.
United States
Currently, the number of software developers, programmers, and testers in the USA sits around the 4 million mark. Among those, there are around 1,400,000 software developers employed. As stated by the US Bureau of Labor Statistics, the growth rate of IT occupations is projected to be around 22 % from 2020 to 2030, much faster than the average for all occupations. 
| | |
| --- | --- |
| Total developers, programmers, and QA | Around 4 million  |
| Employment growth  | 22% from 2020 to 2030  |
There's no question that the software programming community is expanding, nonetheless, in 2021, CNBC stated in a quarterly poll of its Technology Executive Council that about 57% of tech executives considered staffing issues their top problem. Following this survey, the US Labor Department reported that there were over 340,000 unfilled IT job vacancies, an increase of 11% above the 12-month average last Jan 2022.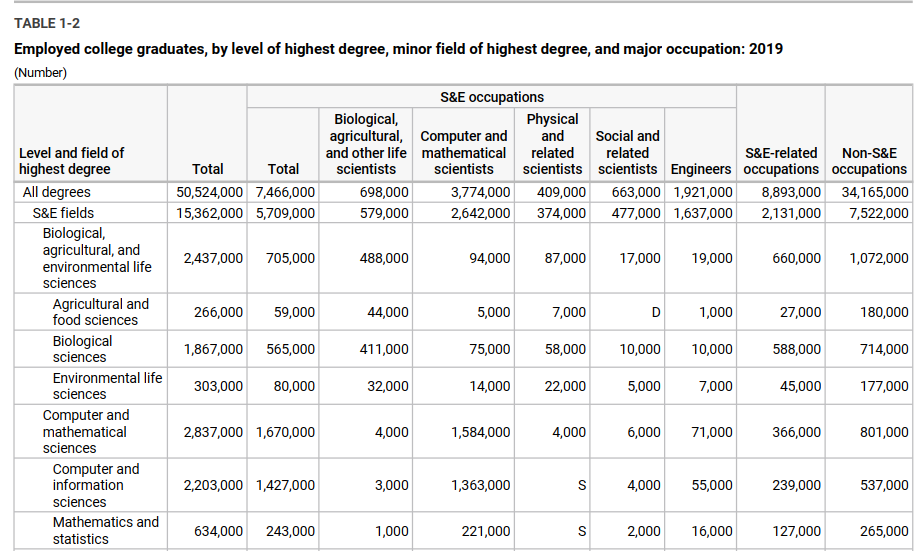 Employed college graduates in all degrees by National Science Foundation USA in 2019
United Kingdom
| | |
| --- | --- |
| Total developers, programmers and QA | Around 3 million  |
| Employment growth  | 36% from 2019 to 2020  |
According to Stackoverflow, the UK have roughly 3 million individuals working in the IT business with 500-800,000 software developers. Despite the fact that the UK is one of Europe's hottest technological centers (together with Germany, the Netherlands, and Finland), tech companies, particularly startups, have significant challenges in hiring employees.
The rapid evolution of the technological universe since the pandemic has created turmoil for companies chasing a tail to acquire qualified and suitable programmers for the advertised tech vacancies. As mentioned in Tech Nation Jobs and Skills report in 2021, the number of advertised tech jobs in H1 2021 was 42% higher than pre-pandemic levels. Moreover, UK universities combined produced between 80,000 – 100.000 graduates in STEM fields in 2019; far too few to fill staff shortages.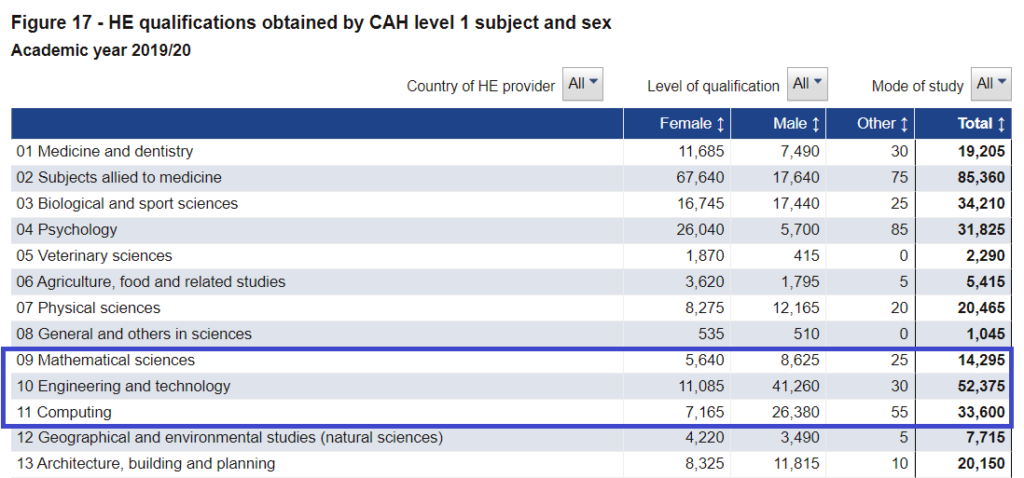 The number of graduates in technology, math, and science in the UK in the school year 2019-2020 by Higher Education Statistics Agency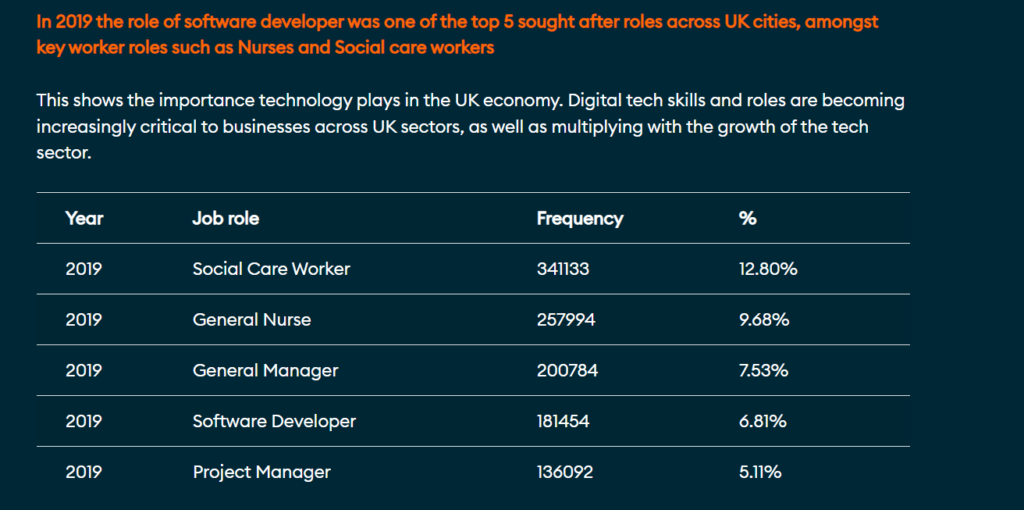 The top ten most advertised roles across all categories in UK by Adzuna, cited by Tech Nation
Brexit may also cause some harm to the software development market in the UK, in terms of IT talent shortage aspect. Breaking down each study found a negative perspective attached to UK staff retention. The primary issues the UK will face in the coming years involve resident visas for potential employees coming from EU states.
According to The Voice of UK Business Software (BASDA), between 2009 and 2015, one in every six recruits at software development organizations in the UK were EU residents. 
According to Microsoft, Goldsmiths, and the University of London's recent research "Unlocking the UK's Potential with Digital Skills," released in 2020, 69 % of UK CEOs say their company has a digital skills gap due to a shortage of digital skills and abilities. In the same research, 44% of UK executives believe their organization's present lack of digital capabilities will have a negative influence on its success in the coming year.
European countries
While the number of European software developers is expanding, it is always lagging behind the force of demand. In 2019 the number of software developers in Europe rose by 7%. At the same time, demand for IT skills in Western markets was expected to grow by more than 10% in 2020 and  20% in 2021, due to increased innovation and demand that was held back in 2020.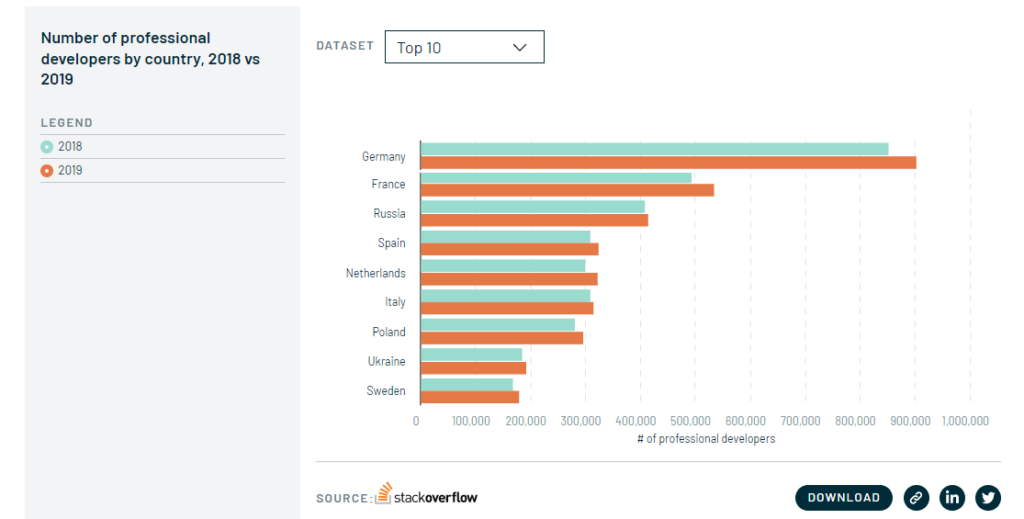 The number of software developers in EU countries by Stackoverflow 2019
As confirmed by CBI – Ministry of According to the CBI – Ministry of Foreign Affairs of the European Union, most European nations are experiencing difficulty finding IT expertise within their borders. Despite having the greatest talent pool, Czechia, Germany, the Netherlands, and Slovenia are the top nations that face significant challenges in attracting IT talent.
Solutions to IT talent shortage
Every trigger problem in the IT sector has a variety of solutions; after all, we're not in this business to just lay down and accept defeat, are we?
The shortage of workforce, especially skillful software programmers causes an unnecessary pain in the brain with IT companies struggling to find solutions. Let's suggest some Sunbytes pain relievers and solve these aching recruitment problems to enable your company to leverage IT capabilities and workforce to accelerate business revenues and expansion.
Bridging the gap with low-code tech
According to Forbes, the corporation should look into technologies that don't require extensive coding. Low-code technology is a type of software that requires little to no coding to create applications, offering quick, efficient solutions to consumers and reducing the difficulties of producing software. You don't have to monotonously write the code line by line using these platforms. It will allow you to build a flowchart and generate code. This strategy speeds up code development.
Low code development solutions not only offer several advantages, but they also enable more individuals to contribute to the application development process, assisting businesses in enhancing their agility.
There are several well-known low-code systems with alternatives for you to consider:
Low-code development platform
Platforms
Business Size
Free Trial
Price
Visual LANSA


Cloud-based,
IBM, Windows.
Small, Medium, Large.
Available
As low as $8.34 per user/month.
Retool
Chrome & Firefox on MacOS and Windows,
Partial for Safari and IE,
Small to large enterprises.
Available
After the free plan –
Team: $10 pm/user,
Business: $50 pm/user,
Get a quote for Enterprise.
Quixy

Windows, Mac, Android, & iOS.
Small to large enterprises.
Available
Platform: $10/user/month, billed annually.
Solution: Starts from $500/month billed annually.
Talent retention
The way we work and how we want to work has completed a summersault over the past few years. Many employees are beginning to value their time to create balance in their lifestyle and so the new challenge for companies is to apply a culture that honors their worker's needs. Surveyed by Stackoverflow recently in the "What makes developers happy at work" report in March 2022, 350 developers reported that salary (60%), work-life balance (58%), and flexibility (52%), were the top five reasons for them to be happy at work. These revealed factors are clues to help businesses shape their strategies to satisfy their talents. If your company is having trouble retaining talents, try the following tips: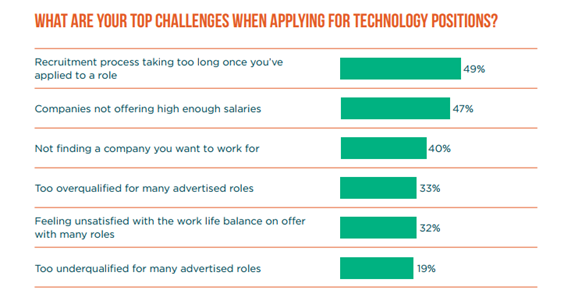 The top challenges for technology professionals across the UK when applying for jobs by Robert Walters in 2018
Increase salary and diversify reward policy
According to a research by Robert Walters, nearly half of the surveyed candidates (47%) believe that they have difficulty applying for a certain technology position because companies do not pay enough compensation and perks. Additionally, companies should diversify their reward policies such as employee stock option (ESO) or have a home loan incentive program for outstanding performers. Others may include a workday lunch or a weekend golf membership package.
Remote working
Saving time from long commutes will permit employees to have a better work-life balance and add hours back into their days. That is the reason why businesses that adopt remote working have become more attractive to job seekers. A study conducted by Pr Newswire shows that 80% of U.S. workers would turn down a job that didn't offer flexible or remote work. Facebook or Google and many other tech giants have officially announced that they permitted their employees to request permanent remote work.
Sunbytes likewise implemented this strategy in 2021 in response to the positive effects remote work was having on our workers' well-being. Nothing screams tension and tiredness like waking up early to sit in traffic for longer than it actually takes to go to work.
Besides the reasons mentioned above, there are many other factors that contribute to employees' commitment to an organization, such as productivity (52%), growth opportunities (49%) as leadership, team leader's way of communication with team members, effective and fair work evaluation. Each company, therefore, will have to actively initiate tailor-made and outstanding employee packages to ensure that these policies are aligned with the corporate culture and generous enough to keep talents motivated and loyal.
Talent Outsourcing
Looking for a way to outsource human resources is one of the top priority solutions and is widely applied by many businesses in the European Union. It is reported by CBI that in a survey among British companies not currently using ITO, 37% indicated they would consider outsourcing IT and development because of COVID-19.
So what is ITO? ITO (Information Technology Outsourcing) is the involvement of a supplier in implementing IT operational activities. The reasons for such include; reduction of costs or staff expansion, or more time for core operational processes.
ITO includes outsourcing of every IT activity, from software development projects to IT services, such as mainframe hosting, desktop support, app installation, and maintenance, or maintenance and support of legacy systems. When mentioning ITO, we have some options to implement this strategy:
Onshoring/ Onsite
Onshoring refers to contracting IT processes to a supplier in a lower-cost location within the national borders. An onshoring option is often preferred due to language, and cultural similarities.
For example, an IT business in California will choose their HR software development partner in New Jersey, although in two different states and slightly different time zones they can easily bond through the latest Basketball or American Football game that was on over the weekend.
Because the personnel working on the onshoring project come from the same labor market as in-house professionals, the cost of onshoring is significant. Due to limited availability, language obstacles, and rigid business cultures, onshoring is popular in nations such as Germany.
Nearshoring
European companies prefer to outsource services to providers within their country. When outsourcing abroad, they prefer providers in nearshore locations because of proximity, language, cultural similarities, and minimal time differences. A company in Finland would undoubtedly opt for nearshore partners in Netherlands or Hungary to upgrade their legacy financial management system.
Offshoring
When the cost of nearshoring soars, and IT regions specializing in delivering outsourced services, such as Poland, lack the resources to satisfy market demands, offshore becomes an attractive option for many.
Offshoring is a method of transferring part or all tasks in the SDLC process, or any IT service, to a partner in another country, usually in another continent. This is a very popular method of outsourcing, often used by companies in the UK, Netherlands, US, and Nordic countries because clients from these countries are fluent in English and comfortable communicating with vendors in other continents.
Nearshoring and Offshoring with Sunbytes
Since 2022, Sunbytes has expanded its global presence to the Philippines and Brazil and is willing to provide nearshore and offshore software development services. Dedicated teams and dedicated developers from Sunbytes can help you with any requirements for software development to grow your business. Operating for more than 10 years, Sunbytes is now eager to help you access a large talent network as well as to create, develop and maintain any software platforms for your business.
Reference Source
Outsourcing today!
Get rid of IT talent shortage by working with Sunbytes now!