When seeking IT staff augmentation companies, you need to outline, CLEARLY, what your company or project NEEDS!
Staff augmentation, offshore dedicated development, or dedicated team are the buzzword of 2021, attracting more international attention as an effective business practice to meet your objectives in a cost-effective and resourceful manner. The IT industry is no stranger to applying the dedicated team model to find highly skilled development personnel in different scenarios. Such scenarios as increasing capacity to fulfill temporary projects, specialized out-of-house skills or strategically increasing speed to market can be succeeded with IT staff augmentation.
Because recruiting in-house specialists is a challenging, time-consuming task, and freelancers often happen to be unreliable, dedicated staff or a dedicated team by an agency offers advanced benefits at a fraction of the cost.
People prefer IT staff augmentation service over in-house employment for a variety of reasons:
Hiring in-house is costly.
Staff turnover for in-house employment is high.
Recruitment time is valuable, especially in the hot IT market.
A lack of local talent
Budget constraints
What is IT staff augmentation service?
At its core, hiring IT staff augmentation companies is an outsourcing strategy of externally hiring skilled tech resources to cover critical positions in your team on a temporary or permanent basis.
The strategy itself is then facilitated by an agency dedicated to applying your hiring criteria and helps you find a highly skilled candidate that fits effortlessly into your in-house development team and fill in the gaps on projects.
Acting as a secure middleman, IT staffing augmentation providers have grown in value due to the shortage of talent in specific areas and time flexibility. In the IT sector, IT staffing firms provide their clients with either individual developers, QA engineers, designers, DevOps engineers, and project managers, or a full-stack dedicated team.
Differences between an IT recruitment agency and an IT staff augmentation firm
The most significant distinction between an IT staff augmentation firm and an IT recruiting agency is the expertise in software development. Many IT recruitment agencies specialize in only recruiting and looking for CVs while IT staff augmentation companies themselves possess extensive experience in planning, developing, and maintaining IT software and platforms.
Specifically, several IT staff augmentation companies, such as Sunbytes, under project-based service agreements, have been coding hundred of platforms and systems for their clients before they step toward staff augmentation service.
These IT staffing companies have a greater grasp of the IT sector, for example, the current trends, and the technologies which are more compatible with your systems. Their quality of services is higher and their range of service is also wider.
They can not only provide you with dedicated developer service, but they can also form a dedicated team for your project, support you with CTO consultancy sessions, or even build a sustainable roadmap for your project. More than that, working with IT staff augmentation companies guarantees you an approach to highly qualified programmers because these programmers must pass a rigorous hiring process, including an interview and a coding exam graded by CTO and Tech Lead of IT staff augmentation firm.
Key criteria to choose IT staff augmentation companies
Staffing partner's expertise and experience
The accreditation and clients of an IT staff augmentation company might provide a wealth of information for your decision. A basic strip search of the IT staff augmentation companies' websites and third-party reviews can give you a basic feel for the possibilities available for your IT staffing partner. Here are the few points you should be aware of when choosing an IT staff augmentation firm based on previous experiences and expertise. 
Mindfully review a staffing agency's credentials and portfolio.
Consult with past clients and measure their levels of satisfaction with the services provided.
Ask around colleagues, trusted business partners, and professionals in the IT industry to know how past clients perceive your potential staffing provider.
Evaluate your agency's local reach and global presence
As we mentioned previously, a lack of in-house/local talent forces many technology companies to consider staff augmentation. Just imagine a techy wonder kid from Vietnam who has in-depth expertise in an emerging programming language or a socially awkward engineer from Holland who can deal with algorithmic complexity inside a specific framework joining your team!
You'll crave to partner with a staff augmentation company that has the connections, experience, and infrastructure in place to recruit, hire, manage and train remote staff, regardless of location. An IT outsourcing company that lets you gain access to leading technical and innovative personnel around the world while staying within your IT budget, is the ideal strategy.
Your IT staff augmentation agency should be committed to the security
IP and data protection in IT development is a valued security net for every company's innovation and ideas.
A respectable hiring firm should require that onsite or remote employees sign non-disclosure agreements (NDAs) and properly screen temporary hires' job histories.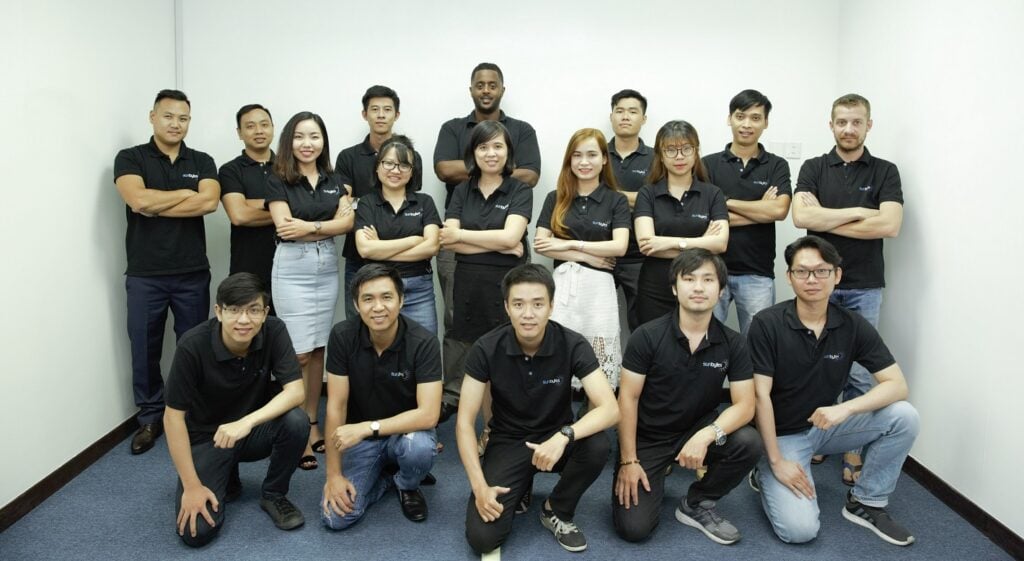 Sunbytes dedicated team
In addition to thoroughly screening augmented personnel, agencies should educate their employees on intellectual property and data security procedures, as well as how to use cybersecurity tools effectively. They should also limit access to client data that isn't relevant to the project they were hired to work on.
Safeguarding your company's property while building future software development with talented augmented staff should be a non-negotiable clause in your relationship with your chosen IT augmentation agency.
Examine contracting procedures
A company's success with an IT staff augmentation agency flows through an understanding of contract procedures and reaction to frequent issues.
When working with a contract agreement, a proper contract procedure simplifies your company goals and helps you save time and money. If your IT staffing augmentation companies can only provide you with a skeleton contract with no uniqueness, this might indicate that they lack the resources or knowledge to manage your project or resource-specific staffing solutions.
The best approach is to collaborate with a firm that can customize the fine print to your company's aims and needs.
It's also vital to maintain that an outsourcing firm can keep up with the pace at which your product or project is being developed. Your firm most likely runs on a tight timetable, so you'll want to work with a staffing partner who can meet or beat that schedule.
Keep the language and cultural differences in mind
To execute projects, an IT development team must align like the parts of a jigsaw puzzle. Executing these projects remotely, there needs to be a balance and understanding between the in-house development team and project manager with the outsourced IT talent from different cultural backgrounds.
To avoid those red-faced moments and miscommunicated upsets with hiring an outsourced team member from a different culture, your chosen IT staff augmentation company should assess your internal team culture and provide you with a candidate with similar qualities.