As the global economy is changing due to the pandemic, we also witnessed mass layoffs from tech giants like Facebook, Google, Microsoft, etc., during 2022 and in early 2023. But looking at things from another perspective, all these tech layoffs and uncertain economic conditions lead to the bright future of IT outsourcing services.

The overall market value of the software development outsourcing services is expected to exceed 610 billion USD by 2027. Businesses focus on reducing vulnerabilities to fluctuations in the global economy while maintaining product quality. The demand for narrowly specialized software companies is growing due to the pace of technological progress, come along with many emerging IT outsourcing trends.

This article will discuss the top 10 IT outsourcing trends in 2023 you need to watch out to stay ahead of the curve. Without further ado, let's dive in!
IT Outsourcing in 2023 is an antidote to economic upheaval
Exorbitant living expenses plus high interest rates means consumers are cutting down on their spending, which in turn has huge impacts on the revenue of these tech companies. Sadly, less revenue means businesses need to minimize the cost.

As budgets become a problem, IT outsourcing is a smart move in 2023 to keep their digital strategies going on the right track. IT outsourcing can help to provide ever-growing businesses with the flexibility, scalability, and cost savings they need to remain successful.

By leveraging IT outsourcing service, organizations can quickly scale their businesses at desired levels without having to invest in additional hardware or software. This allows organizations to remain agile and to take advantage of the latest technology without the need for a large upfront investment. Additionally, organizations can access their data from anywhere, making it easier to run their business more efficiently.
 Read more: Choose the best IT outsourcing solution at Sunbytes
Top 5 IT outsourcing trends to look for in 2023
Overall, based on the current situation, the emerging IT outsourcing trends in 2023 are:
Outsourcing trends number #1: Cloud-based services
One of the key IT outsourcing trends is the shift from traditional on-premise services to cloud-based services. From cost savings to increased efficiency, cloud-based platforms are quickly gaining traction in the business world.

90% of organizations now turn to the cloud to handle their data storage and software needs. Furthermore, a survey by Gartner found that cloud infrastructure-as-a-service (IaaS) is the fastest-growing segment of the global cloud services market. Revenues for this segment are at an incredible amount – $178 billion/year, indicating that businesses are increasingly adopting IaaS solutions to manage their data and applications.

Since cloud computing is gaining popularity worldwide, businesses have already increased their demands to search for IT outsourcing providers to help them with cloud infrastructure and management to save system costs and data protection.
Outsourcing trends number #2: Automation and Artificial Intelligence
Artificial intelligence (AI) and automation are the top outsourcing trends and are quickly becoming integral components of the modern business landscape. The AI market is predicted to be valued at  300 billion by 2026. ChatGPT has everyone talking "to" and about it; Netflix automated recommendations worth $1 billion yearly. 

With all that well said, companies across different industries now start to dig into this intelligent technology thanks to its full-powered capacity. From improving customer service to streamlining operations, AI and automation are here to help businesses reduce the time they need to spend on tedious tasks and free up resources to focus on more important tasks. Moreover, AI-powered analytics tools can analyze real-time large datasets, allowing businesses to uncover valuable insights and make informed decisions.

Instead of spending years researching and creating an AI tool or service, many organizations are searching for outsourcing services with deep expertise in this field and experienced machine learning engineers.
Outsourcing trends number #3: DevOps
DevOps is another popular trend in the IT outsourcing market. It is the definition of software development and IT operations that enables organizations to quickly and easily deploy their applications and services.

Big techs like Apple, Google, Slack, etc., hire DevOps outsourcing services to help them fasten new product development while effectively maintaining the current ones. If you don't follow their smart strategy, there's a big guess you can't keep up with technological improvement.  

The DevOps market is expected to hit $57.90 billion by 2030. This huge number presents the surging adoption of DevOps thanks to its necessity and benefits
It's a smart move for organizations to start turning towards outsourcing DevOps to reduce overhead costs and shorten development cycles to speed up the product launching process with minimum errors.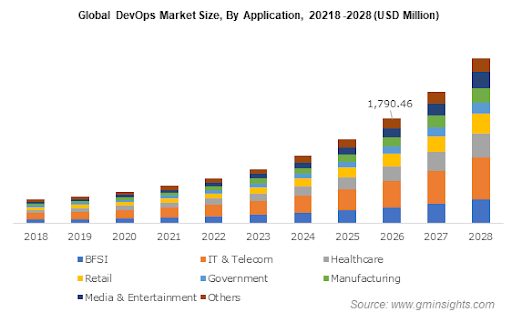 Outsourcing trends number #4: Managed Security Services
With the increasing cyber threats globally, security is one of the top 5 major trends in the IT outsourcing market. The number of security attacks has grown 125% from 2021 to 2022 globally, which is alarming.

Cybersecurity has always been a primary obstacle for companies, as their online business with cloud-based operations is likely exposed to data and privacy exploitation on many levels.

That's when managed security services come to the rescue. These services can help organizations protect their data from breaches and malware attacks and comply with industry regulations and standards.

With such high demand, maintaining cybersecurity requires complex procedures and essential skill sets.
Outsourcing trends number #5: Explore new outsourcing areas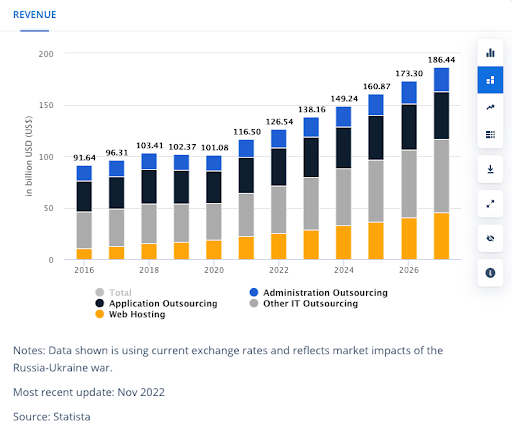 In 2023, you can't afford bad software; that's why IT outsourcing is one of the go-to strategies for organizations to optimize their operation cost and develop core products with high-quality outcomes. 

With its rising popularity, dedicated developers and teams from Eastern Europe and Latin America will thrive. If Asia has always been considered a vital outsourcing hub, in the next few years, nearshore outsourcing for European companies is trending as its revenue is projected to reach $185 billion by 2027; meanwhile, it's predicted to reach $136 billion in Asia countries.

With the advantage of language skills, cultural fit, and cost-saving labor resources, countries like Poland, Brazil, Argentina, etc., are definitely in the spotlight for top outsourcing destinations with highly-skilled developers.
 Read more: Why IT outsourcing to Brazil?
Wrap up
New software development is impacting the way companies operate and grow their businesses. No matter if you're just a small start-up or highly-profitable company, you need to be mindful of rising technologies to stay ahead of the game.

With these updates on the latest outsourcing trends in 2023, you'll know where to invest and make the right strategy to keep your business well-positioned for steady growth. If you just start to looking around, Sunbytes – one of the top IT staff augmentation and dedicated team provider, can give you free consultancy and bring out the best tailored-made solution for your business.