As the world becomes more interconnected through the internet, businesses increasingly turn to offshore development teams to get the expertise they need at a lower cost. But it's not just about the money but the quality that counts. That's why before investing all your resources, you need to know the essentials, the why(s) and the how(s) to give you details on hiring offshore developers in Latin America.

In this article, we'll give you the complete guide and answers to all of your questions. Let's dig in!
What is offshore software development?
Offshore software development refers to hiring software developers based in another country, typically located in a different time zone, to work on a company's software development projects. The term "offshore" is used because the dedicated team is typically located in a foreign country, often located near a coast or across the sea from the company's home country.

The main goal of offshore software development is to lower the cost of products by taking advantage of lower labor costs in other countries while still getting access to a highly skilled and talented resources. Companies can also benefit from the cultural diversity and different perspectives offered by a development team in another country, which can bring fresh ideas and approaches to a project. This can be done through outsourcing or by creating a dedicated offshore development team that works directly for the company. In both cases, the development team works remotely, communicating with the company through various means such as email, instant messaging, and video conferencing.
Why hiring offshore developers in Latin America?
A report from tech services company Commit in 2022 estimated that offshoring software development roles would increase by 70% over the next decade as companies from the US turning to Latin American countries, such as Mexico, Argentina, Brazil, and India, in order to find developers with right skillsets. This is largely due to a US talent shortage, as well as the rise of remote work.

Latin America has emerged as a leading destination for offshore development as the growth rate of hiring in countries from Latin America has skyrocketed up to 156%. There are several advantages to hiring offshore developers in Latin America.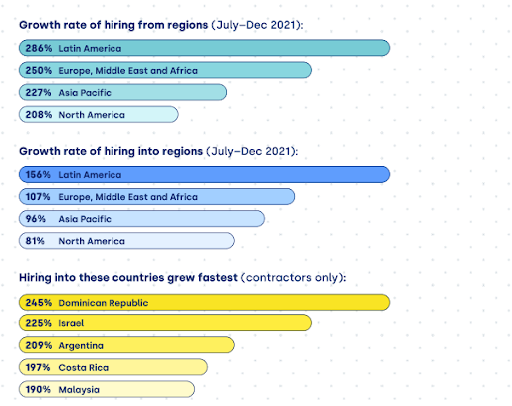 Get access to diverse talent pools
The very first benefit of hiring offshore developers in Latin America is that companies can access a larger pool of software developers. This allows them to have more options to find the right person for the job, even with different skill sets.

Countries in Latin America region such as Argentina, Brazil, Mexico… are home to roughly 1 million developers with a variety of expertise, ranging from front-end and back-end development, database management, mobile development, and more. The workforce in LATAM is very highly educated with access to greater Edtech education and intensive learning courses. For example, Columbia contributes 4.5% of its GDP to top learning sectors like IT and software development.
Reasonable hiring cost
The cost of hiring offshore developers in Latin America varies based on the developer's experience and location. Generally, outsourcing in Latin America is less far costly due to the lower living expense compared to the Us & UK-based companies. However, it also depends on the type of project. For example, if the project is complex and requires a high degree of skill, the labor cost may be higher than if the project is relatively simple.

Companies should also factor in the cost of resources, such as software and hardware when calculating the cost of hiring offshore developers. This will help ensure the project is completed on time and within budget.
Fast-growing tech hub in the world
Latin America is a fast-growing technology region with its tech sector set to reach nearly $150 billion in 2023. This is evident in the increasing number of start-ups and investment in the tech sector in the region.

According to the IDB report mentioned earlier, the number of tech startups in LATAM region increased by over 50% between 2018 and 2020, and fintech investment increased up to $2 billion from 2020, making it $5 billion in total in 2021. This growth is expected to continue in upcoming years, as this egion continues to attract investment, talent, and innovation.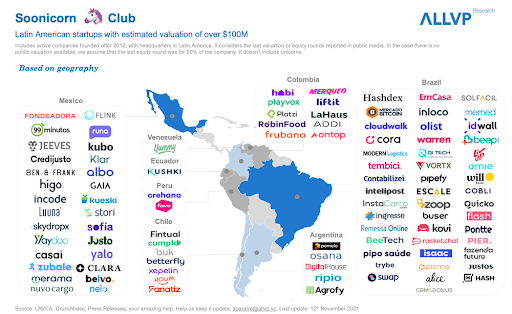 One of key drivers of the growth in Latin America's tech sector is the availability of a highly skilled and educated workforce. Many Latin American countries have implemented policies and initiatives aimed at promoting STEM education and encouraging young people to pursue careers in technology.

Another factor contributing to its growth is the favorable business environment. Governments have been incredibly supportive of startups and technology companies, offering tax incentives, access to funding, and other resources to help these companies grow and succeed. For example, the IDB reports that the number of technology hubs and accelerators has increased dramatically in recent years, providing mentorship, networking opportunities, and other resources to startups.
Process of offshore software development
This procedure requires careful consideration, planning, and execution. Companies are turning to offshore dedicated team as a cost-effective solution to overcome the shortage of tech talent and reduce labor costs.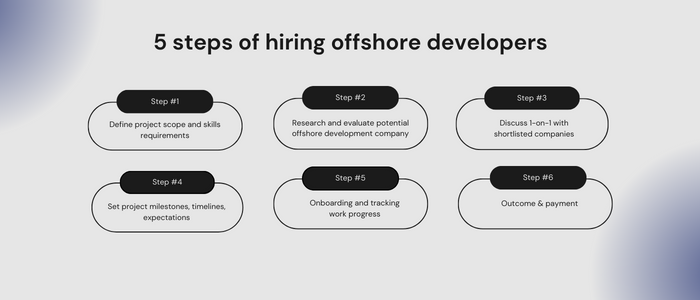 Step 1:
This process starts with defining projects' scope and identifying all skills and experience required for the job.
Step 2:
When the requirements are clear, the next step is to research potential offshore development companies and evaluate their experience, portfolio, and client feedback. It is also crucial to ensure that the company has a good track record of delivering quality work within the required timeline. You can make use of online platforms such as LinkedIn, Clutch, and GoodFirms to find the best offshore development companies.
Step 3:
After the search, you need to initiate a conversation with shortlisted companies and get an understanding of their processes, capabilities, and pricing. You can also ask for references and case studies to validate their claims. During this stage, it's essential to assess the communication skills of the offshore development team and ensure that there are no language barriers that could impact the quality of work.
Step 4:
Once you have successfully recruited the dream team, it's time to establish clear project milestones, timelines, and expectations. The offshore company should have a clear understanding of business' working processes, tools, methodologies. You also need to have regular touch points with the development team to ensure that the project is progressing as planned.
Step 5:
In 2023, businesses have the option of using agile methodologies and remote collaboration tools to manage the project effectively. For example, tools like Jira, Asana, and Trello are widely used to track project progress, communicate with the team, and manage tasks. Furthermore, tools such as Zoom, Skype, and Google Meet are very efficient for your team to hold regular meetings with the offshore development team.
Step 6:
In terms of payment, companies can choose between fixed-price contracts, time and materials contracts, or retainer-based contracts. In a fixed-price contract, your company will pay a pre-agreed amount for the completion of the project. In a time and materials contract, the company pays an hourly rate for the work done. In a retainer-based contract, the company pays a recurring fee for a set amount of time.

Last but never the least, it is a must to have a clear exit strategy in place for the project. This involves transferring the code, documentation, and other project assets to the company and ensuring that the team has provided adequate training and support to the in-house team.

By following these steps, you can tap into the benefits of offshore development and build successful partnerships with offshore teams.
  Learn how Sunbytes help you to outsource the best software developers
Conclusion
Hiring offshore developers in Latin America can be an excellent way for companies to save considerable money and access a larger pool of talented dedicated developers. The hiring process requires a structured approach, clear communication, and a focus on quality. Companies should take the time to research potential offshore developers and be clear about their expectations for the project.

At Sunbytes, we specialize in outsourcing offshore software development to Latin America. We have a team of experienced developers with the skills and experience to deliver the best results for your projects. Contact Sunbytes today to learn more about how we can help you maximize your returns with offshore software development.