Hire remote developers in Vietnam
Scale your business with the best developers from Vietnam
Not any country in Eastern Europe but Vietnam and Brazil were the first destinations Sunbytes chose when we wanted to expand our global presence. So why software outsourcing to Vietnam? You may have wondered those things when we mentioned the name of the nation that was formerly exclusively known for its wars against France and the USA.

So what are the reasons why Sunbytes decided to start with Vietnam? In this page, we will reveal the main reasons why Sunbytes, as well as Samsung or Intel, decided to come, invest and hire dedicated software developers here.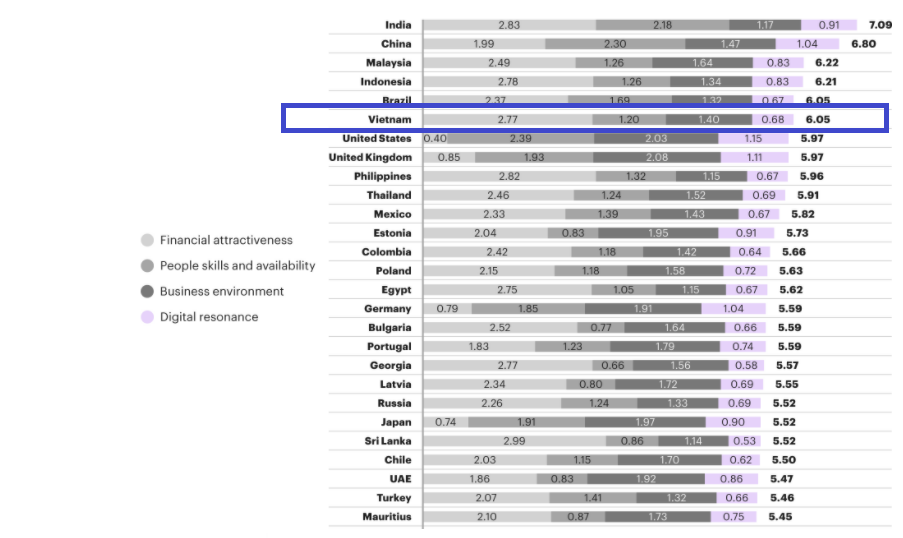 An emerging software outsourcing location
According to a report published in early 2021 by consulting firm Kearney on The Global Services Lcation Index (GSLI) outsourcing locations, Vietnam ranked among the Top 6 best locations for IT outsourcing in terms of financial attractiveness, people skills and availability, business environment, and digital resonance.
Overview of Vietnam
Vietnam is the 15th most populated nation in the world with a population of about 98 million. The capital of Vietnam is Hanoi, while the biggest city is Ho Chi Minh City.
In 2021, although Vietnam faced a serious attack of the 4th Covid-19 wave, the country was still one of the rare economies whose GDP growth rate was positive, at 2.58 percent. At the end of 2021, the GDP of Vietnam was estimated at $ 368 billion, and in the last 11 months of 2021, there was nearly US$26.46 billion in FDI inflows. Singapore, South Korea, and Japan were the leading investors in Vietnam.
| | |
| --- | --- |
|  VIETNAM OVERVIEW |   |
| Area of land | 331,236 km2 |
| Population up to 2021 | 98.51 million |
| GDP of 2021 | $ 368 billion |
| GDP growth rate of 2021 | 2.58% |
A fast-growing ICT Industry
The potential importance of digitization in economic growth and social welfare is becoming increasingly recognized in Vietnam. Recently, the digital economy has stimulated the interest of both the government and business sectors to invest and develop in order to meet the demand of different stakeholders.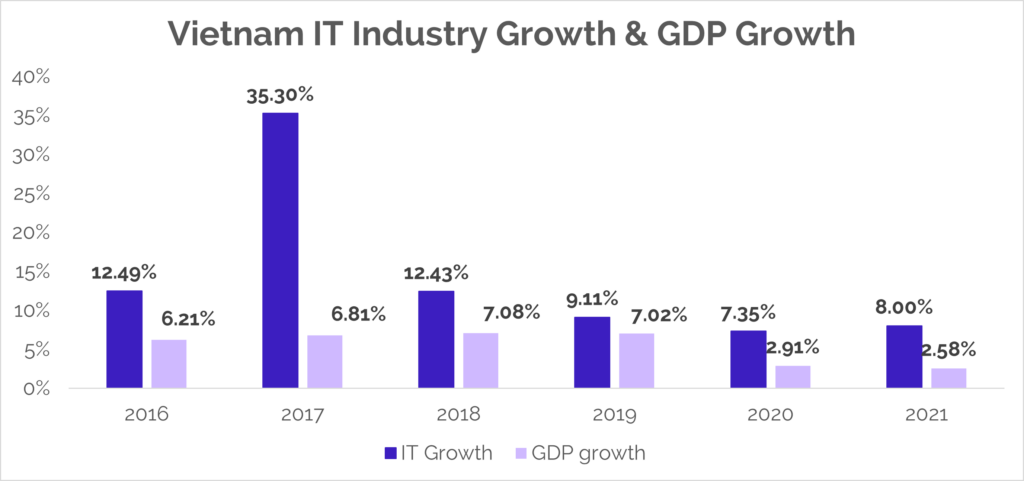 Vietnam IT Industry Growth & GDP Growth in White Book of Vietnam Information and Communication, 2021
Among business sectors, information and communication technology (ICT) is one of the fastest expanding in Vietnam. With a nearly 8% growth rate, overall ICT revenue in Vietnam in 2021 was estimated to be about $ 136 billion. The ICT industry's growth rate, in fact, was three times that of the national GDP, which was just 2.58%.
The key markets for IT services & software outsourcing are the United States, Europe, Korea, Hong Kong, Australia, and Japan as the top client.
Reliable. Cost-efficient. Contact Sunbytes now to hire remote developers in Vietnam for your business
Get free consultation
One of the most connected countries in the world
Considered as a digital powerhouse, Vietnam now has around 71 million internet users, which constitutes for more than 2/3 of the population. Regardless of income or geographic location, almost every Vietnamese home possesses a cell phone. It is indeed important to mention that these statistics are far higher than those for Malaysia and the Philippines.
Developing technology infrastructure with cloud computing
There are already around 39 cloud computing service providers in Vietnam. The nation is home to around 27 cloud computing data centers with over 270,000 servers, which have been invested in by 11 local firms.
Human Resources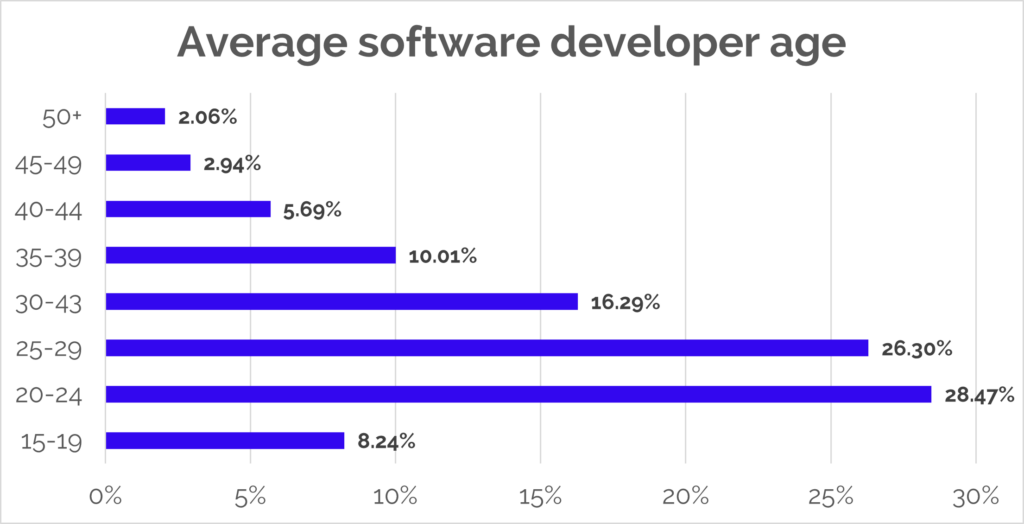 Abundant software outsourcing workforce
Vietnam has an enormous labor supply, with:
Roughly 430,000 software developers and approximately 1,030,000 individuals working in the ICT industry.
About 150,000 developers, which is 3 times higher than in Thailand
412 IT vocational institutions will yearly provide around 12,000 professionals to the ICT industry.
Highly qualified developers
A survey by HackerRank on the topic of Which Country Has the Best Programmers, Vietnam placed second in the Southeast Asian region and 23rd out of 50 nations with 81.1 points, higher than the ranks of the United States, India, and the Netherlands. Vietnamese dedicated programmers have an outstanding competency in Artificial Intelligence, with a rank at top 3 among 50 countries.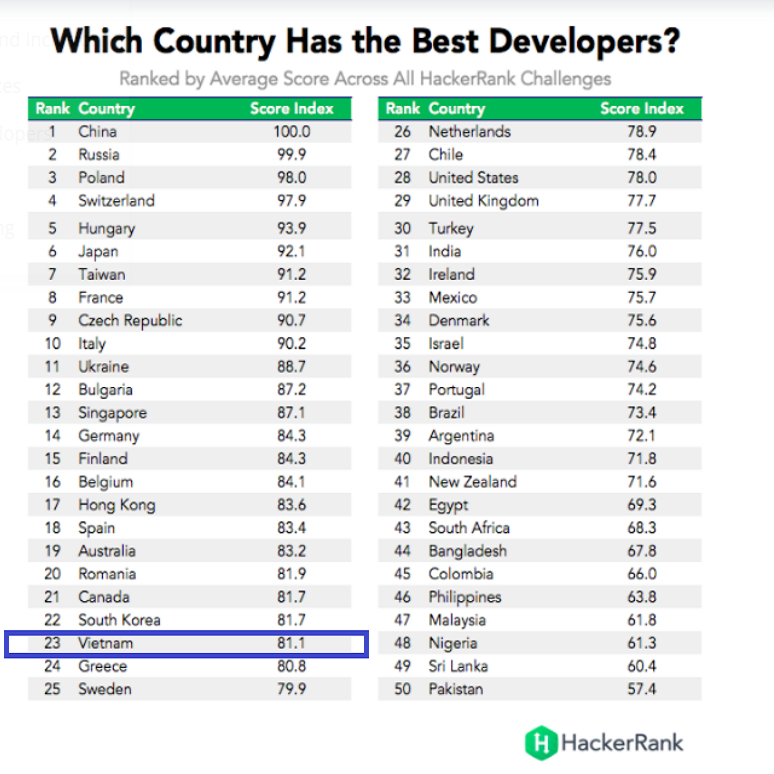 Let Sunbytes – Best IT outsourcing service help you to hire remote developers in Vietnam
Get free consultation
Legal Support & Social Stability
National Digital Transformation Program
The National Digital Transformation Program to 2025, approved in June 2020, with a vision to 2030, set the goal of transforming Vietnam into a digital national, stable, and prosperous country that pioneers in testing new technologies and models; fundamentally and comprehensively renovating government management and administration activities, enterprise production and business activities, people's ways of living and working, and developing a safe, humane, and widespread digital infrastructure.
People and Culture
Vietnam ranks no 9 in the list of the friendliest country. Vietnamese are timid but hospitable. However, hard-working is a proud tradition of most people in this growing country. Vietnamese engineers can sit hours in front of their computer screens to find a bug; they also can stick their eyes to their laptops until they accomplish the assignments for their clients.

Vietnam has emerged as a premier IT outsourcing destination in Asia. With its growing tech talent, competitive costs, robust infrastructure, and business-friendly policies, IT outsourcing to Vietnam offers an attractive opportunity for companies looking to scale their operations in a cost-effective manner. If you want to know more about IT outsourcing to Vietnam, drop Sunbytes a line and we'll get back to you right away.
thê



Contact
contact
Let's get started with Sunbytes
Drop us a line and we're just 1 click away to make your projects ready