Hiring remote developers in Latin America
As the world becomes more interconnected through the internet, businesses increasingly turn to offshore development teams to get the expertise they need at a lower cost. But it's not just about the money but the quality that counts. That's why before investing all your resources, you need to know the essentials, the why(s) and the how(s) to give you details on hiring remote developers in Latin America.
Offshore software development refers to hiring remote developers based in another country, typically located in a different time zone, to work on a company's software development projects. The term "offshore" is used because the dedicated team is typically located in a foreign country, often located near a coast or across the sea from the company's home country.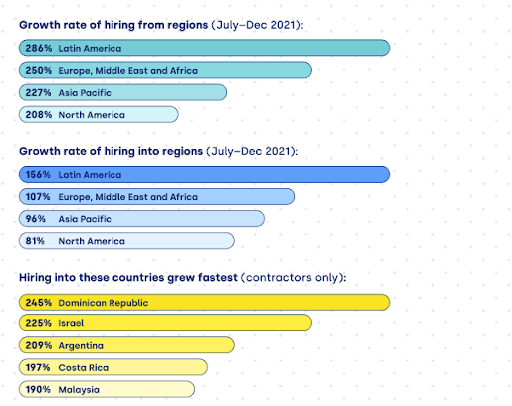 Why hiring remote developers in Latin America?
A report from tech services company Commit in 2022 estimated that offshoring software development roles would increase by
70%
over the next decade as companies from the US turning to Latin American countries, such as Mexico, Argentina, Brazil, and India, in order to find developers with right skillsets. This is largely due to a US talent shortage, as well as the rise of remote work.
Latin America has emerged as a leading destination for offshore development as the growth rate of hiring in countries from Latin America has skyrocketed up to
156%
.
Get access to diverse talent pools
Countries in Latin America region such as Argentina, Brazil, Mexico… are home to roughly 1 million developers with a variety of expertise, ranging from front-end and back-end development, database management, mobile development, and more. The workforce in LATAM is very highly educated with access to greater Edtech education and intensive learning courses.
Reasonable hiring cost
Hire remote developers in Latin America is less far costly due to the lower living expense compared to the Us & UK-based companies. However, it also depends on the type of project.

Companies should also factor in the cost of resources, such as software and hardware when calculating the cost of hiring offshore developers. This will help ensure the project is completed on time and within budget.
Fast-growing tech hub in the world
Latin America is a fast-growing technology region with its tech sector set to reach nearly $150 billion in 2023. The number of tech startups in LATAM region increased by over 50% between 2018 and 2020, and fintech investment increased up to $2 billion from 2020, making it $5 billion in total in 2021. This growth is expected to continue in upcoming years, as this region continues to attract investment, talent, and innovation.
Contact Sunbytes to hire the most trustworthy and dedicated remote developers worldwide
Get free consultation
Hiring remote developers in Latin America can be an excellent way for companies to save considerable money and access a larger pool of talented dedicated developers. The hiring process requires a structured approach, clear communication, and a focus on quality. Companies should take the time to research potential offshore developers and be clear about their expectations for the project.

At Sunbytes, we specialize in outsourcing offshore software development to Latin America. We have a team of experienced developers with the skills and experience to deliver the best results for your projects. Contact Sunbytes today to learn more about how we can help you maximize your returns with offshore software development.
contact
Let's get started with Sunbytes
Drop us a line and we're just 1 click away to make your projects ready