We are back discussing our favorite topic, outsourcing software development! It's been too long! If you missed our past blogs on dedicated teams and team culture, explore Sunbytes' blog before glancing through the best countries to outsource software development projects.
Outsourcing software development continues to be the buzzword of the tech industry, with a proven cost-optimization strategy and access to a wider talent pool. Offshore software development, as a business strategy, gives a startup or company project the biggest opportunity for success, depending on the technical and cultural priorities.
What is outsourcing software development again?
To jog your memory, software development outsourcing is an arrangement, in which a company hires a third-party software development firm, or freelancer, to take on software projects. These third-party contractors are skilled and capable of completing the needed business duties from anywhere in the world through cloud technology and project management.
What to look out for when outsourcing software projects to a different country?
You might wonder what country's software development criteria will fit your tech needs? Whether its the level of government support, access to talent, timesaving, or accessibility, there is a shoe to fit every size.
Of course, your decision will be influenced by a variety of considerations, such as the coding capability of software developers, financial repercussions, project needs, dedicated team requirements, and so on. Many developers work as freelancers or for outsourcing firms, with varying levels of experience, aptitude, and pay.
In that case, we are going to look at the basic criteria that highlight the negative and positive aspects connected to each country to support your first decision as one of the leading offshore software development countries.
Technical education and level of resources available
Location and time zone
Competitive rates
English language proficiency 
Project complexity experience
Cultural differences 
The leading outsourcing countries
Ok, now that we have some criteria set to make an informed decision, let's get down to business!
A brief google search gives countless sources on which country to outsource to, but you won't find one as detailed as this. Compiling all the data, these are our top picks for outsourcing software development;
Poland
Ukraine
Vietnam
Argentina
Brazil
Poland
The Central European powerhouse for tech startups, Poland has been making itself a name with a reliable and talent heavy IT sector. Data collected by Stack Overflow found that almost 250,000 software developers of varying disciplines reside in Warsaw and its neighboring tech cities. It is also handy to note that Multinational IT giants Microsoft, Google, Oracle, Cisco, and Intel have their research and development centers (R&Ds) in Poland.
Technical education and resources
Polish universities graduate over 15,000 students concentrating in computer and communication technology each year. Approximately 80,000 students are studying to become software developers at the same time. It implies that the country is flooded with a constant tidal wave of IT talent every year. The emphasis on Science, Technology, Engineering, and Technology (STEM Education) in universities may be a primary reason for Poland's 3rd place ranking for programming skills on Hackerrank.
JS, Java, and Python are the top 3 technologies in Poland, according to almost 200,000 developers who have included these programming languages on their LinkedIn accounts. In Poland, there are also a large number of PHP and.NET developers.
Location and time zone
Located in the heart of Europe, Poland's timezone is just 6 hours different from Washington, DC, USA, allowing for seamless communication.
Additionally, with EU membership and close proximity to the major European financial centers such as London, Paris, and Frankfurt, it's an added security structure for the contracting firm.
Competitive rates
The average yearly salary of a software engineer in Poland is US$40,000. This is almost three times lower than the same salary in the United States, according to SalaryExpert. To go deeper into its rates, the average hourly rate of a Senior Software Engineer is US$76-100 and a UX/UI Designer can set you back US$66 on average. However, the quality of software development services in Poland matches or, in certain cases, exceeds that in the United States or Western Europe.
English language proficiency and cultural differences
Poland ranks #16 worldwide on the EF English Proficiency Index, ahead of Switzerland and France. Nearly a third of projects outsourced to Poland come from the US or the UK so it makes sense to communicate without a serious language barrier.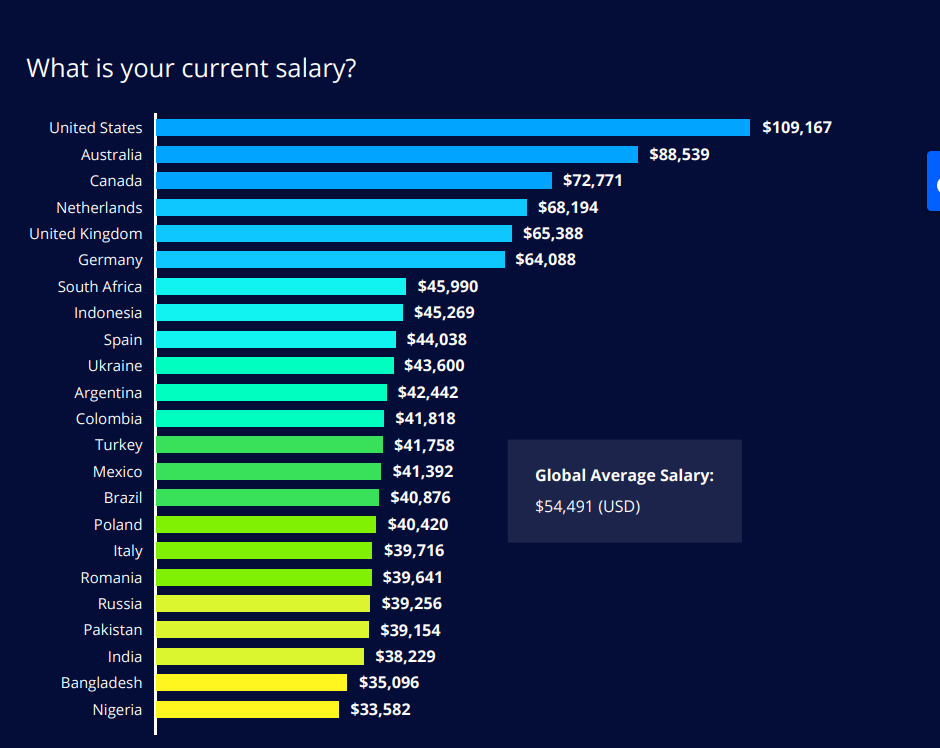 Developer Skills Report by HackerRank 2021
There are no significant cultural differences between developers from Poland and the United States or Europe, as there are between software engineers from India or China, for example. There may be some small changes that do not have a strong influence on Poland's business development teams. Poland has assimilated the western mindset after 14 years as a member of the European Union and is well equipped to engage with clients from western cultures.
Project complexity experience
Poland has a great reputation for licensing and protection under the GDPR banner. Polish developers have been a pinnacle in the creation and maintenance of some of the biggest European companies such as BlaBlaCar and WeChat. Companies usually outsource to Poland for UI-related jobs, and front-end and back-end development.
Ukraine
Similar to their central and eastern European counterparts, Ukraine is becoming an increasingly major competitor in the software development outsourcing market. In 2021, 11 Ukrainian tech companies were included in the Top 100 Outsourcing Companies in the world by The International Association of Outsourcing Professionals (IAOP).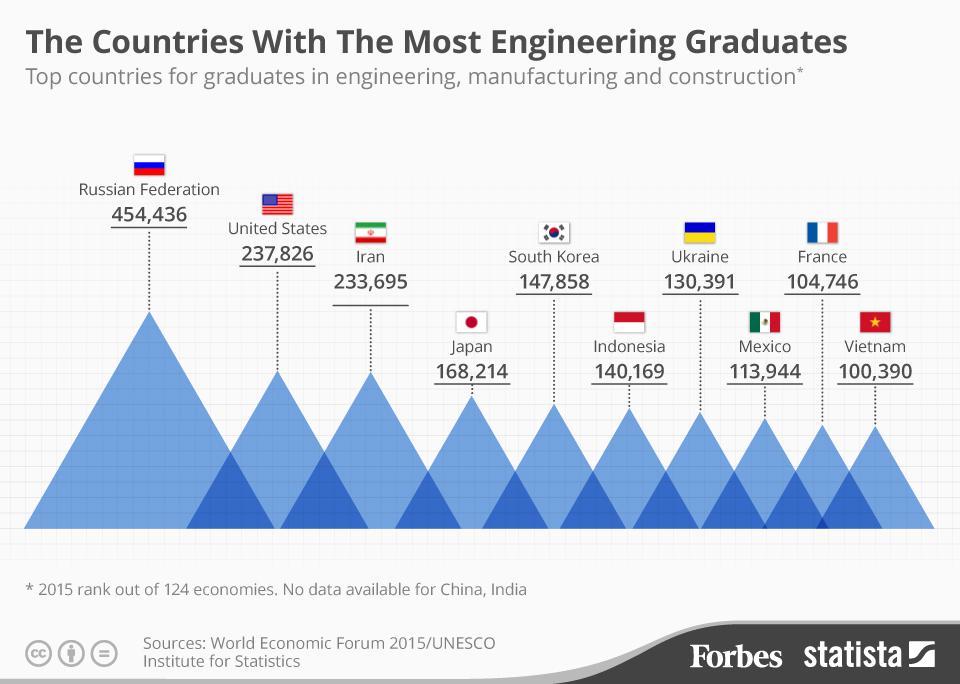 The Countries With The Most Engineering Graduates in 2015 by Forbes and Statista
Technical education and resources
In 2021, the Ukrainian government devoted 6.6% of the nation's GDP to educational funding. The educational system in Ukraine has a strong focus on scientific and technological advancements. Nearly 50% of university applicants major in science, technology, engineering, or mathematics (STEM). This indicates that the country generates around 130,000 experienced engineering experts each year. Ukraine ranked 7th among the top 10 nations for engineering, manufacturing, and construction graduates, thanks to its large pool of young tech talent. 
Ukrainian state universities collaborate with local IT clusters to ensure that the technical department curriculum is current with the newest technological trends and commercial successes.
Engineers in Ukraine are well-versed in the majority of popular (and not-so-popular) technologies. You name it: Java, C, C#, JavaScript, PHP,.NET, and so on. Every programming language and technology expert, whether it's Unity3D or mobile app development, Scala or Magento, data science, or artificial intelligence, is guaranteed to be found on the Ukrainian market.
Location and time zone
Located an hour ahead of Poland's Timezone, Ukraine reaps all the same accessibility, security, and time benefits for any company contemplating outsourcing their projects.
Competitive rates
The average yearly salary of a software engineer in Ukraine is around US$42,000. This is exponentially lower than the same salary in the United States, according to SalaryExpert. To go deeper into its rates the aver average hourly rate of a Senior Software Engineer is US$30-70 and a UX/UI Designer can set you back US$60 on average.
English language proficiency and cultural differences
Ukraine ranks #40 worldwide on the EF English Proficiency Index, ahead of India which would be their closest competitor in terms of contract rates. Colleges and universities have committed to embedding communication and language in their programming curriculum. Software development companies are also interested in improving the English speaking skills of their employees. They often provide language courses as a part of their benefits packages.
Project complexity experience
Ukraine are plotting a major growth ladder over the past decade. Businesses in the United States outsource around 80% of their IT projects to Ukraine, with a lot of back-end work that identifies the developers' ability to learn new technologies and frameworks.
Grammarly, GitHub, and Preply are just a snippet of Ukrainian capabilities and experience in project complexity. Grammarly has become Ukraine's first unicorn startup ''attempting to innovate in this space, creating intuitive AI that complements our natural communication abilities''.
Vietnam 
In recent years, the Vietnamese market for outsourcing software development and the country's economy has attracted a larger spectrum of clientele. According to Deloitte 2020, Vietnam has become an appealing investment destination for a wide range of industries, including manufacturing, real estate, energy, retail, and construction, as well as arts, tourism, entertainment, and other services.
Technical Education and Resources
The Vietnamese Education System is steadily transforming to match the skills in the tertiary sector. Traditionally, Vietnam is considered a manufacturing giant, however, government initiatives have pushed to implement STEM from the kindergarten level to grow the supply of IT professionals. Vietnam ranked 8th globally and 2nd in Asia in the Programme for International Student Assessment (PISA) in 2015 – the most respected global survey by Organisation for Economic Co-operation and Development (OECD) to measure countries' proficiency in maths, science, and reading. In addition, algorithms and programming are part of the high school curriculum now.
Vietnamese universities and private institutions produce about 50,000 IT professionals annually and a total of 400,000 graduates in IT engineering.
Vietnamese IT workers have a diverse range of talents that include Backend, Frontend, and Full-stack projects, as well as Database work, which allows them to handle a variety of needs for customers or businesses that want this sort of support.
Location and time zone
Located in Southeast Asia, Vietnam has a reliable air connection to Singapore and Japan. The major urban hubs, Ho Chi Minh City and Hanoi are around 7 hours ahead of the UK while the US is between 12-15 hours behind depending on the state.
Timekeeping with the US on paper may seem inconvenient. However, engineers in Vietnam are reputable for being talented, punctual, hard-working, and conscientious.
Competitive rates
The average yearly salary of a software engineer in Vietnam is around $22,900. This is exponentially lower than the same salary in the United States, according to SalaryExpert. To go deeper into its rates the aver average hourly rate of a Senior Software Engineer is $25-40 and a UX/UI Designer can set you back $15 on average. The savings would be 50% compared to China and 30% to India. The low cost and high quality of input make it an attractive decision
English language proficiency and cultural differences
Vietnam's English proficiency is moderate overall but in practice has little technical focus on the language. This is being addressed with greater spending in the TEFL sector in public and private universities.
Communication apps such as Zalo and Microsoft teams allow conversational English communication to be manageable for most developers you may employ in the future. Culturally, Vietnamese are incredibly humble, supportive and team orientated when in the office but not so direct in communication. Culturally, this communication style is how the Vietnamese show their courtesy to others. However, this sometimes causes some problems in collecting their feedback, especially the negative ones to ensure transparent communication.
Project complexity experience
Vietnamese developers have a talent for problem-solving. Outsourcing firms in Vietnam are already experimenting with upcoming technologies such as Blockchain, cloud computing, IoT, Machine Learning, Cloud Computing, and any other commonly used software development technologies. Furthermore, Vietnamese developers possess exceptional technical skills as well as hands-on experience working on difficult large-scale IT projects that are accessed by millions of people worldwide. Recently, the world has been introduced to Vietnam's IT capabilities thanks to the Flappy Bird by Nguyen Ha Dong, or Free Fire game by 111dots studio in Vietnam.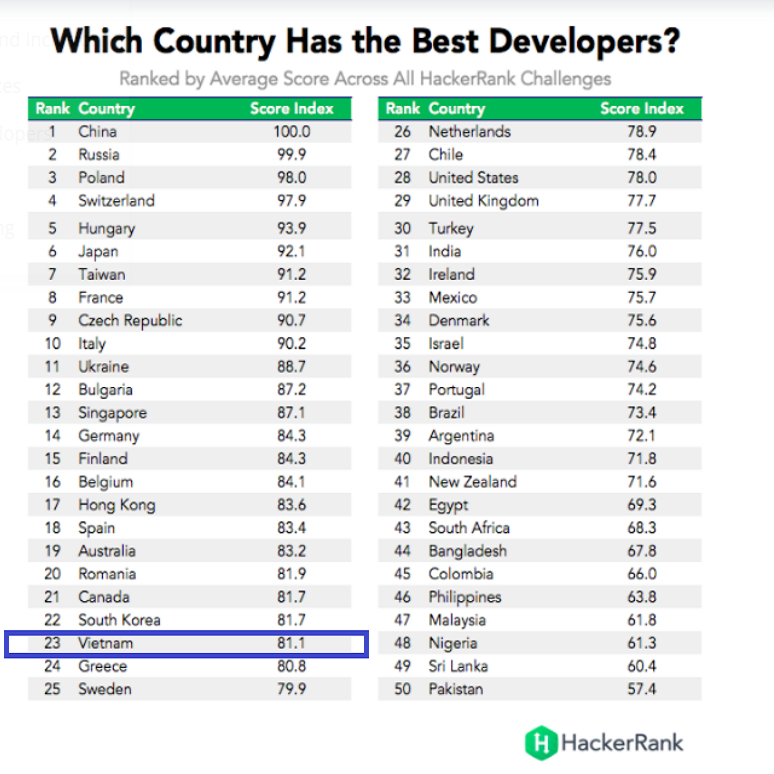 HackerRank Survey: Which country has the best developers? in 2016
Argentina
Argentina's software development industry has grown tremendously. The government has been a huge supporter of the IT industry. As a result, more organizations are outsourcing development projects to Argentina. Argentina is currently a key player in not just the footballing world but in the software development business. There is a popular IT cluster from Buenos Aires to Cordoba with hundreds of IT companies.
According to a recent Netherlands Enterprise Agency assessment, the Argentinian software sector employs around 3,800 people, including major brands and an expanding network of local enterprises.
Technical education and resources
Those who graduate from an IT course in Argentina are said to have a strong foundation of skills to be adopted in the real-time sector. Seven Argentinian Universities were ranked worldwide. In addition, Argentina has one of the largest shares of women graduates from tertiary programs. (OECD, 65.9 %).
The practical foundations established at universities arise late in each undergraduate's career when they will be required to complete a project lasting at least eight months to a year. The project should be relevant to real-life circumstances, assisting in the resolution of actual difficulties.
In Coursera's Global Skills Index Report 2020, Argentina ranked 22nd in the global data science skills rating that included such technologies as Python, SQL, R, TensorFlow, Cloud APIs, NLP, and others. But among Latin American countries it was the first.
Location and time zone
Located in Latin America, Argentina has the most ideal time zone for US firms to conduct business. 
Competitive rates
The average yearly salary of a junior software developer in Argentina is around US$12,000 while those who reach the senior level earn US$42,442. This is exponentially lower than the same salary in the United States, according to SalaryExpert.
| | | |
| --- | --- | --- |
| | Monthly developer salary in Argentina | Monthly developer salary in US |
| Angular | $1,057.42 | $9,583.30 |
| Python | $2,220.49 | $11,833.33 |
| JavaScript | $2,833.77 | $12,583.33 |
| NodeJS | $2,908.17 | $10,166.67 |
| Ruby On Rails | $1,226.84 | $11,833.33 |
| PHP | $1,744.70 | $9,833.33 |
| .Net | $1,670.68 | $11,250.00 |
| React | $1,808.24 | $11,166.67 |
| C/C++ | $1,586.15 | $12,500.00 |
| React Native | $2,167.78 | $10,916.67 |
Comparison of average developer salary in Argentina and the US by Glassdoor
English language proficiency and cultural differences
The Argentina education system includes English within its curriculum, allowing its developers to be fluent in the language. Argentina developers study additional languages to allow easy communication when collaborating on software development.
The ability to communicate in various languages offers Argentina's IT industry a competitive advantage since it allows them to better relate to overseas clients.
Because of their comparable cultures, Americans and Argentine software engineers may work effectively together. Their work ethics and social habits are quite similar, which greatly reduces friction in the software development process.
Project complexity experience
Argentina has experienced the growth of numerous important digital businesses over the years, including OLX, Globant, and MercadoLibre, a booming e-commerce platform with its own payment service app, MercadoPago. Experts predicted that Argentina's software development business will generate $7.33 billion by the end of this year alone, and the country has been progressively investing in this area. They also estimated that outsourcing software development will be the key sector among the contributors to this growth.
Brazil
According to the Brazilian Association of Software Companies (ABES) in 2020, investment in the IT sector saw considerable growth. The significance of this interest in IT positioned Brazil to reclaim its 9th place in the international software and service market ranking, with overall employment rates of 1.8%. Of the US$22.9 billion market value for software and services, the software development industry in Brazil generated 55% of revenue, with foreign markets accounting for 79.6% of output and about 2.8% of GDP.
Technical education and resources
Brazil currently produces over 500,000 programming engineers, with a comparatively low turnover rate of 20% compared to India's 40%. According to the IT human resource market study produced by the Brazilian Association of Communication and Information Technologies Companies (BRASSCOM) in 2021, between 2021 and 2025, the IT human resource market in Brazil is expected to welcome around 237,000 people into the workforce from 123 scientific and technology institutes and 400 incubators operating across the country.
Academically, a number of Brazillian colleges and institutions are ranked among the finest in the world. The University of Sao Paulo (USP) has the second-highest score in Latin America and is among the world's top 90 engineering and technology institutions, according to the QS Rankings while USP is the top Brazilian university for computer science and information systems.
In the ranking, the Campinas State University (Unicamp) is also listed among the top 150 engineering and technology schools in the world, and the sixth in Latin America. Computer science, computer engineering, and information systems are all available as undergraduate majors at Unicamp, as are master and doctoral degrees in computer engineering.
Location and time zone
Located in Latin America, Brazil has the most ideal time zone for US firms to conduct business.
Competitive rates
Even when we factor in the recruiting and incentive costs, employing Brazilian developers strike value financially and technically when compared to hiring professionals in the United States. According to statistics in the Developer Skills Report by HackerRank 2021, a Brazilian developer's average yearly pay is approximately $40,000 per year, or around $3,300 per month, compared to roughly $9,000 per month and $110,000 annually for a developer in the United States. When it comes to software outsourcing in Brazil, the hourly pay for a Brazilian developer may range from $20/hr to $60/hr+, depending on programming talents, languages, and seniority, and this can be a major benefit., according to SalaryExpert.
English language proficiency and cultural differences
Brazil is in the center of the Latin American nations when it comes to English proficiency. Foreign languages are becoming more accessible to Brazilians, particularly those in business. According to some research, over 50% of Brazilian software engineers can communicate in English fluently enough to work for an English-speaking customer. Nonetheless, many are still at the beginner level or can only read and write in English. At Sunbytes, our Brazilian developers are all at the upper-intermediate level of English.
Project complexity experience
Brazil is the world's fifth most populated nation, and its app market is amazing. Indeed, there are more than 63,824 applications from Brazilian publishers on Google Play, out of a total of 2,916,541 apps, accounting for 2% of all apps on Google Play.
Conclusion
As companies look to outsourcing to reduce costs and access technical talent, the leading countries for IT outsourcing provide a range of options. While Vietnam remains a very popular choice with its large pool of skilled software developers and engineers, and low costs, other countries like Poland, Ukraine, and outsourcing to Latin America countries like Argentina or Brazil are also attractive outsourcing destinations. With strong technical educations, developer communities, and often more aligned time zones with Western countries, these emerging outsourcing hubs offer compelling cases for partnering. For companies considering outsourcing software development, evaluating the pros and cons of different countries and their offerings can lead to a successful match and productive working relationship.