Why software outsourcing to Vietnam?
Not any country in Eastern Europe but Vietnam and Brazil were the first destinations Sunbytes chose when we wanted to expand our global presence. So why software outsourcing to Vietnam? You may have wondered those things when we mentioned the name of the nation that was formerly exclusively known for its wars against France and the USA.

So what are the reasons why Sunbytes decided to start with Vietnam? In this page, we will reveal the main reasons why Sunbytes, as well as Samsung or Intel, decided to come, invest and hire dedicated software developers here.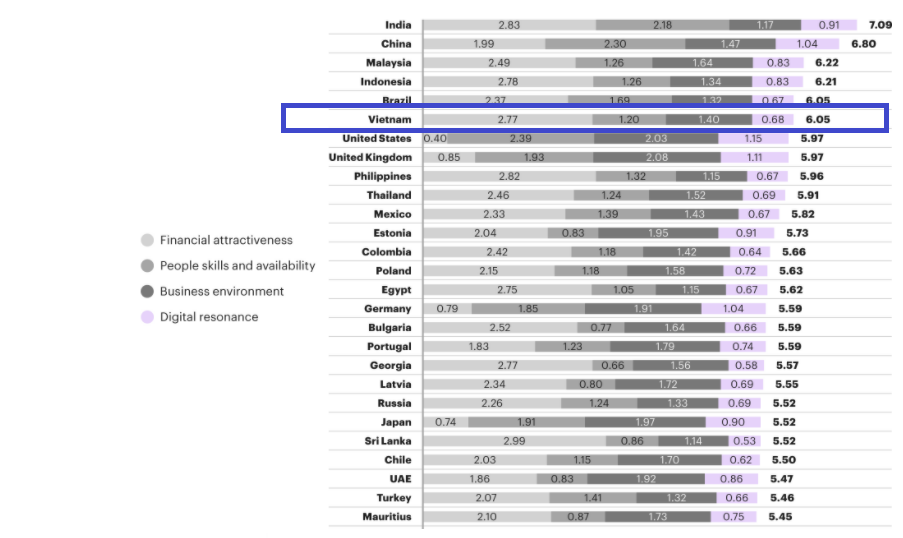 An emerging software outsourcing location
According to a report published in early 2021 by consulting firm Kearney on The Global Services Lcation Index (GSLI) outsourcing locations, Vietnam ranked among the Top 6 best locations for IT outsourcing in terms of financial attractiveness, people skills and availability, business environment, and digital resonance.
Vietnam has a land area of 311,699 square kilometers and is located on the eastern end of continental Southeast Asia. It is the 15th most populated nation in the world with a population of about 98 million. Vietnam has maritime boundaries with Thailand through the Gulf of Thailand and the Philippines, Indonesia, and Malaysia via the South China Sea with China to the north and Laos and Cambodia to the west. The capital of Vietnam is Hanoi, while the biggest city is Ho Chi Minh City.
| | |
| --- | --- |
|  VIETNAM OVERVIEW |   |
| Area of land | 331,236 km2 |
| Population up to 2021 | 98.51 million |
| GDP of 2021 | $ 368 billion |
| GDP growth rate of 2021 | 2.58% |
The launch of economic reform Đổi Mới in 1986 facilitated Vietnamese integration into the global economy and politics. According to World Bank, Vietnam now is one of the most dynamic emerging countries in the East Asia region. It is part of international and intergovernmental institutions including the United Nations, the ASEAN, the APEC, the CPTPP, the Non-Aligned Movement, and the World Trade Organization. It has assumed a seat on the United Nations Security Council twice.

In 2021, although Vietnam faced a serious attack of the 4th Covid-19 wave, the country was still one of the rare economies whose GDP growth rate was positive, at 2.58 percent. At the end of 2021, the GDP of Vietnam was estimated at $ 368 billion, and in the last 11 months of 2021, there was nearly US$26.46 billion in FDI inflows. Singapore, South Korea, and Japan were the leading investors in Vietnam. Vietnam's major export partners include the US, China, the EU, ASEAN, and South Korea, while import top import partners were China, South Korea, ASEAN, Japan, and the EU.
A fast-growing ICT Industry
The potential importance of digitization in economic growth and social welfare is becoming increasingly recognized in Vietnam. Recently, the digital economy has stimulated the interest of both the government and business sectors to invest and develop in order to meet the demand of different stakeholders.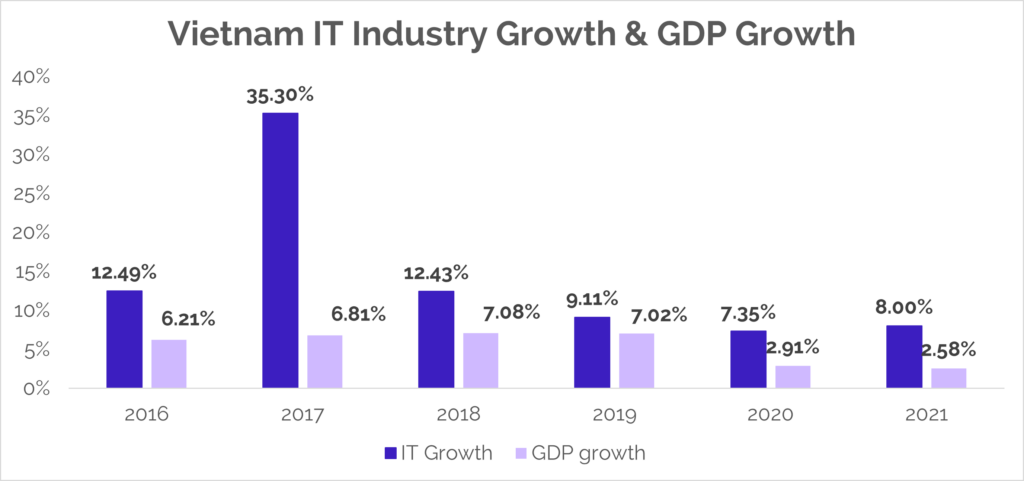 Vietnam IT Industry Growth & GDP Growth in White Book of Vietnam Information and Communication, 2021
Among business sectors, information and communication technology (ICT) is one of the fastest expanding in Vietnam. With a nearly 8% growth rate, overall ICT revenue in Vietnam in 2021 was estimated to be about $ 136 billion. The ICT industry's growth rate, in fact, was three times that of the national GDP, which was just 2.58%. Before Covid-19, the industry was expanding rapidly by 15.2% each year. IT services (excluding trade), software outsourcing, and digital content generated around $ 20 billion in income, 40% of which came from export activities.
The key markets for IT services & software outsourcing are the United States, Europe, Korea, Hong Kong, Australia, and Japan as the top client.
One of the most connected countries in the world
According to World Bank, "Vietnam is in a promising position to become a digital powerhouse. Today, the country is one of the most connected in the world, especially for its income level, with high mobile and internet penetration rates, and an increasing use of information technology (IT) tools and platforms by businesses." It now has around 71 million internet users, which constitutes for more than 2/3 of the population. Fixed broadband internet service speed reached 68.50Mbps, ranking 42/181 nations and territories (an increase of 14 places from 2020), while mobile broadband service speed (3G, 4G) reached 35.14Mbps, ranking 48/141 (up 9 places compared to 2020).
Regardless of income or geographic location, almost every Vietnamese home possesses a cell phone. It is indeed important to mention that these statistics are far higher than those for Malaysia and the Philippines.
Developing technology infrastructure with cloud computing
An important digital infrastructure for the development of a digital government, economy, and society in Vietnam is cloud computing, as affirmed by the Vietnam Ministry of Information and Communication.
There are already around 39 cloud computing service providers in Vietnam. The nation is home to around 27 cloud computing data centers with over 270,000 servers, which have been invested in by 11 local firms. The cloud market in Vietnam has reached the value of roughly VND3.2 trillion ($133 million), and is projected to be worth at least $500 million by 2025 after the COVID-19 pandemic has pushed its growth by 40 percent during the last two years.
Human Resources
Abundant software outsourcing workforce
When it comes to the question: Why software outsourcing to Vietnam, the quality and quantity of human resources are critical. In contrast to other service and industrial settings, software outsourcing operations are completely dependent on the availability of skilled and competent people.
Vietnam has an enormous labor supply, with roughly 430,000 software developers and approximately 1,030,000 individuals working in the ICT industry. In comparison to other Southeast Asian nations, Vietnam has the biggest team of software developers. Vietnam outnumbers both Singapore and Malaysia, which have 180,000 and 250,000 developers, respectively.
In addition, the country more than triples the number of developers in Thailand, which now has about 150,000. It is expected that over 50,000 technology graduates from more than 149 colleges will join the labor market each year. Furthermore, 412 IT vocational institutions will yearly provide around 12,000 professionals to the ICT industry.
Vietnamese programmers are mainly millennials; roughly 55 % of Vietnamese programmers are between the ages of 20 and 29, and 8.24 % of programmers began coding before the age of 20.
Currently, programmers with more than 5 years of experience account for around 30% of all programmers, while those with less than 3 years of expertise account for 52.5 %.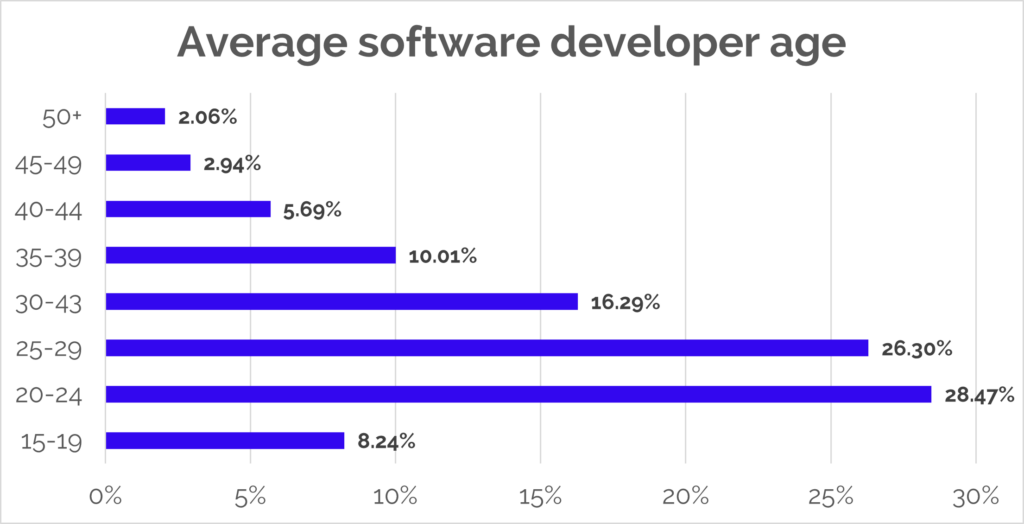 The average age of developers who participated in the Vietnamese IT Industry Market 2021 by TopDev
Highly qualified developers
Mathematics, physics, and chemistry are obligatory subjects in all Vietnam secondary and high schools. Vietnamese students have a strong foundation for programming skills because of their early exposure to science courses. Furthermore, admission rates at Vietnam's information technology institutions and colleges are exceptionally high, with one admitted for every 64 applicants. This demonstrates that the background of Vietnamese IT students is assured.
In a 2016 survey conducted by HackerRank on the topic of Which Country Has the Best Programmers, Vietnam placed second in the Southeast Asian region and 23rd out of 50 nations with 81.1 points, higher than the ranks of the United States, India, and the Netherlands. Vietnamese dedicated programmers have an outstanding competency in Artificial Intelligence, with a rank at top 3 among 50 countries.
Regarding the programming languages, according to the 2021 poll, PHP and C# are the most popular programming languages in which Vietnamese developers are most confident.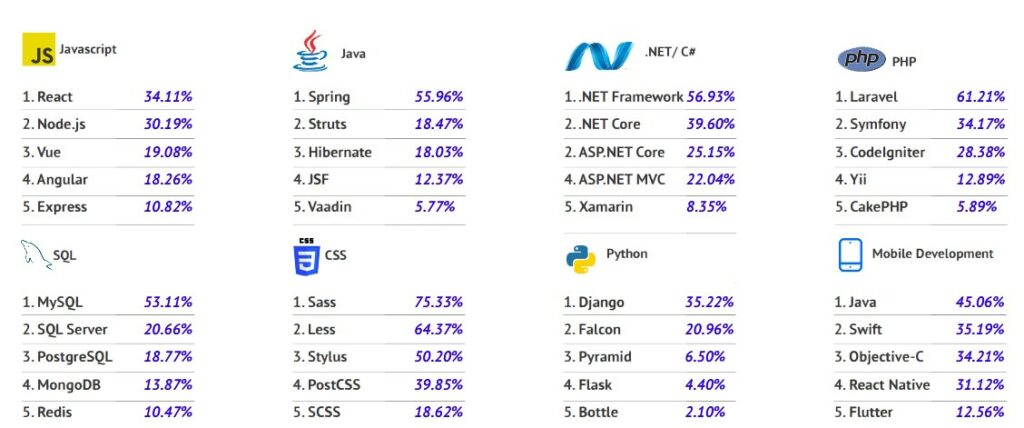 Popular programming languages among developers in the survey Vietnamese IT Industry Market 2021 by TopDev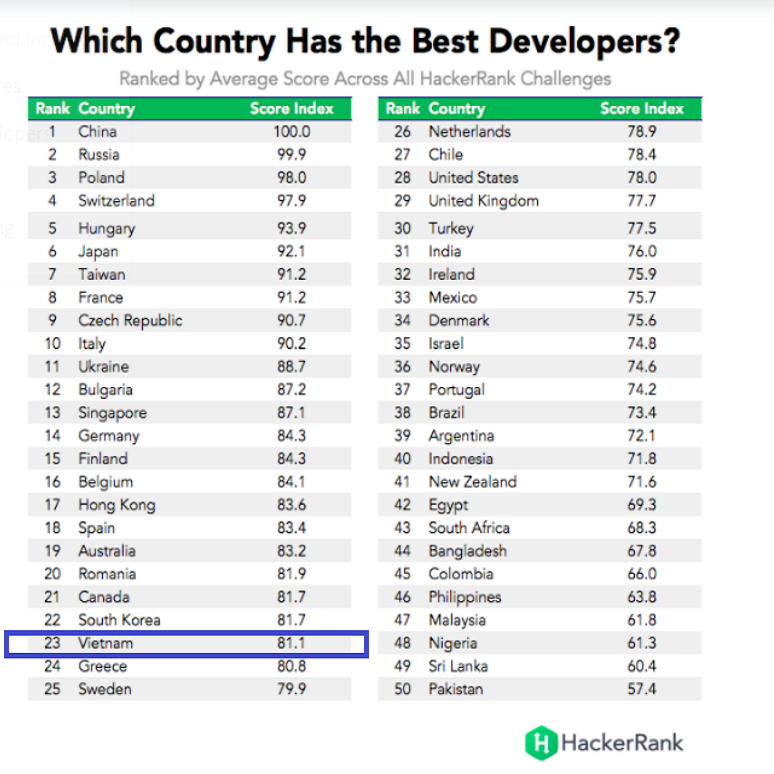 Best Developer Rank by Country by HackerRank 2016
Legal Support & Social Stability
National Digital Transformation Program for the Years 2025 to 2030

The National Digital Transformation Program to 2025, approved in June 2020, with a vision to 2030, set the goal of transforming Vietnam into a digital national, stable, and prosperous country that pioneers in testing new technologies and models; fundamentally and comprehensively renovating government management and administration activities, enterprise production and business activities, people's ways of living and working, and developing a safe, humane, and widespread digital infrastructure.

With certain precise foundations, the National Digital Transformation Program aspires to establish a digital government, digital economy, and digital society, as well as form Vietnamese digital technology firms capable of going worldwide. Some of these objectives for 2025 are included in the National Digital Transformation Program:
Vietnam is in the top 50 of the ICT Development Index (IDI);
Vietnam ranks in the top 40 of the Global Cybersecurity Index (GCI).
According to the Global Innovation Index, Vietnam is rated in the top 30. (GII).
Quality 5G service is available
Annually enrolling in training, supplementing bachelors and engineers specialized in information technology. Adjusting and supplementing graduate, undergraduate, and vocational training programs associated with digital technologies such as artificial intelligence (AI), data science, big data (Big Data), cloud computing cloud (Cloud Computing), Internet of Things (IoT), virtual reality / augmented reality (VR / AR), blockchain, three-dimensional printing (3D Printing).
Applying the model of integrated science – technology – engineering – math and arts, business and enterprise integrated education model (STEAM / STEAM / STEAM education), English training and using skills apply information technology and ensure information security at all educational levels. Conduct vocational training and training so students have skills ready for the digital environment.
Other legal documents:
Artificial Intelligence (AI): In 2021, the Prime Minister continues to issue the AI Development Strategy, aiming to make Vietnam one of the AI Centers in the region and the world to take advantage of the advantages of this platform.
The Ministry of Information & Communications and relevant agencies have been focusing on developing and perfecting major strategies such as Digital infrastructure development strategy, National data strategy for Digital Government, National cybersecurity strategy, National strategy for Digital Economy and Digital Society development, Digital Transformation strategy for Presse
Social Stability
The military coup in Burma in early February 2021 not only brought the country back to its darkest period under the military dictatorship but also further destabilized Southeast Asia. Other countries such as Thailand also face the insecurity of their society. In contrast to its counterparts, Vietnam is regarded as "one of the more politically stable countries in South East Asia" by the United Kingdom government. Although Vietnam has 54 minority groups, the majority of the Vietnamese population is Vietnamese (or Kinh) who make up 85.32% and this group lives in harmony with the others. Amid the COVID19 crisis, in 2021, Vietnam was honored as the top destination for tourists in Asia by World Travel Awards and this is an affirmation of the stability and secure environment for people and businesses coming to Vietnam.
People and Culture
According to Espresso Communication, Vietnam ranks no 9 in the list of the friendliest country. Vietnamese are timid but hospitable. However, hard-working is a proud tradition of most people in this growing country. Vietnamese engineers can sit hours in front of their computer screens to find a bug; they also can stick their eyes to their laptops until they accomplish the assignments for their clients. This good characteristic is frequently expressed in Vietnamese proverbs or sayings, such as "Có công mài sắt có ngày nên kim" (Hard work pays off) or "Tay làm hàm nhai, tay quai miệng trễ" (No bees, no honey, no work, no money).

In conclusion, Vietnam has emerged as a premier IT outsourcing destination in Asia. With its growing tech talent, competitive costs, robust infrastructure, and business-friendly policies, IT outsourcing to Vietnam offers an attractive opportunity for companies looking to scale their operations in a cost-effective manner. If you want to know more about IT outsourcing to Vietnam, drop Sunbytes a line and we'll get back to you right away.




contact
Let's get started with Sunbytes
Drop us a line and we're just 1 click away to make your projects ready